As market-leading designers, manufacturers, and suppliers of a wide range of litter bins, we appreciate that choosing the correct litter bin for your waste requirements can be a tricky task. Whether you're looking for a solution to prevent cross-contamination or a method to lower the risk of commercial or domestic waste disposal in public litter bins, the option of a litter bin with a restricted aperture may be the answer.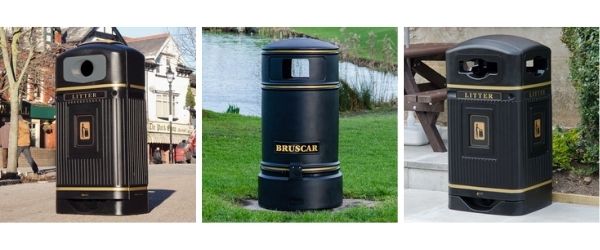 What is a restricted aperture litter bin?
A restricted aperture outdoor litter bin is a waste solution with a smaller opening for collecting waste. By reducing the size of the aperture, we can prevent incorrect waste deposits, such as large sacks of domestic waste, and promote the correct usage of litter bins. Available in various shapes, the smaller openings can accommodate a wide selection of litter types.
Why choose a litter bin with a smaller opening?
Available at no extra cost, a litter bin with a reduced opening has many advantages and benefits.
Decreases the likelihood of domestic or commercial waste deposits:
By choosing a litter bin with a reduced aperture opening it prevents the possibility of commercial and domestic waste deposits ending up in public litter bins and encourages businesses and households to dispose of waste correctly.
Lowers the potential of cross contamination:
When used as part of a recycling programme, a smaller aperture lowers the potential for cross-contamination by restricting incorrect waste deposits and promoting the correct usage of waste disposal units.
Reduces costs:
By collecting smaller waste deposits, restricted aperture litter bins reduce the frequency of collection and, in turn lowers the costs associated with waste collection. Also, by reducing the frequency a bin is emptied, it helps to lower maintenance costs. Also, by reducing the frequency a bin is emptied, it helps to lower maintenance costs.
Lessens collection frequency:
Due to the smaller opening, a reduced aperture litter bin lowers the requirement for collections and emptying as the waste items are smaller and take longer to fill to capacity. Eliminating the possibility of larger waste deposits, reducing the aperture size of a litter bin will ensure that only the correct waste stream is collected.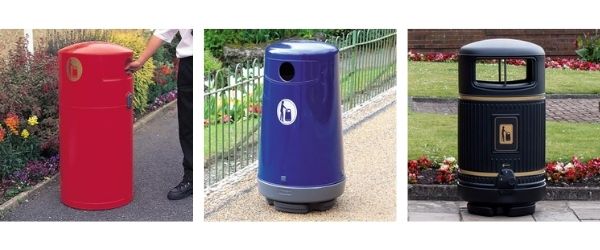 Which bins have reduced openings?
As a market-leader in litter bin design and manufacturing, Glasdon offer a variety of litter bins with restricted apertures. From the slim design of the Mini Plaza® Litter Bin with a capacity of 70 litres and unique keyless locking system to the 200-litre capacity Nexus® 200 Litter Bin with four apertures to allow easy disposal from all angles, there is a reduced aperture litter bin for all on street locations and public spaces.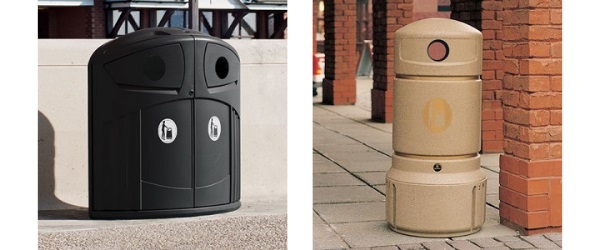 Can I personalise a restricted aperture litter bin?
Whether it's a company logo, colour theme, advertisement or waste message, personalisation is available on all reduced aperture litter bins. Achieved through the Glasdon personalisation service, you can opt to fit the litter bins with non-standard graphics to meet individual requirements. For more information on this service, contact us today or read our Guide to Personalisation and Branding with Glasdon.