Effective from 1st January 2023, tobacco companies must pay part of the state's multimillion-euro street cleaning bills in an attempt to cut plastic waste rates, mainly derived from cigarette filters.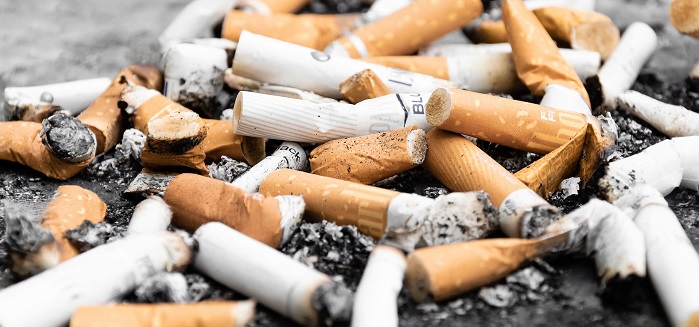 In 2022, a total of €85 million was spent by local authorities on street cleaning, €36 million of that was spent alone keeping the streets of Dublin clean. Meanwhile, in a 2021 litter quantification survey (or item counts), cigarette related litter accounted for 48.4% of litter composition across all local authority types, with packaging items following in a distant second with 20.4%.*
According to the World Health Organisation (WHO), cigarette filters contain microplastics and make up the second-highest form of plastic pollution worldwide. When cigarettes are incorrectly disposed of, not only is the plastic dumped but so also are 7000 toxic chemicals that can pose a serious risk to the surrounding environment.*
In response to these staggering statistics and alongside the European Union's call to reduce and eventually eradicate plastic pollution through the Single-Use Plastic Directive, legislative changes have been made by the Department of the Environment, Climate and Communications.
Following a model of Extended Producer Responsibility (EPR), tobacco companies in Ireland will now be liable in arrears for part of the costs associated with collecting and disposing of the waste they place on the market. The full liability amount will not be set until 2024 after the 2023 litter toll data is collected.
Whilst this legislation sets in motion the country's plans to increase the removal of cigarette litter, we explore how collection rates can be improved at source through the considered design of waste solutions.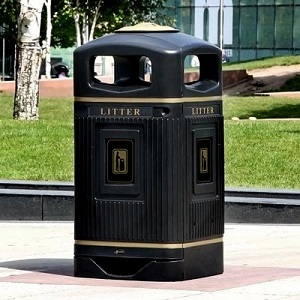 Designed for Local Authorities
For local authorities, areas with overflowing bins are reported to have higher cigarette butt littering rates than sites that are well-presented with optimal hygienic waste solutions*. Because of this, the need for adequate street waste solutions and cigarette waste solutions go hand in hand.
Whilst we provide a range of stylish, effective and dedicated Cigarette Bins & Outdoor Ashtrays, a large proportion of our quality Outdoor Litter Bins provide the option to include smoking control systems themselves. Take for example our flagship unit the Glasdon Jubilee 110 Litter Bin. This robust street litter bin comes with the option of a free-of-charge universal stubber plate located upon its domed hood, discouraging the stubbing of cigarettes on the bin body. Whilst the stubber plate protects the bin, we offer smoking control systems to capture harmful cigarette butts. Through the inclusion of an optional universal ashtray (with a larger 3-litre tray available), smokers can deposit butts at one of our easily recognisable street litter bins.
Another worthwhile and practical addition to the Jubilee 110 to further enhance cigarette disposal rates is the use of poster display kits. Featured on either side of the bin, these display posters can advise or instruct pedestrians regarding the need to dispose of cigarettes appropriately.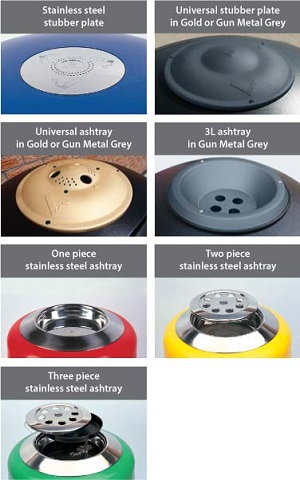 If you're looking for a solution to prevent cross-contamination and the disposal of large sacks of waste whilst promoting the correct usage of litter bins, our Restricted Aperture Outdoor Litter Bins are the perfect solution. Available too with multiple smoking control optional extras.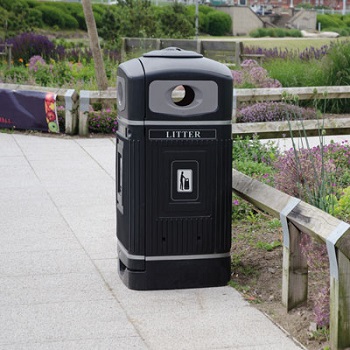 For litter hotspots in urban, suburban, highway and tourist locations where both general and cigarette waste are above average, opt for the larger alternative with the Glasdon Jubilee 240 Wheelie Bin Housing. Offering all the same advantageous smoking control systems as the 110.
For Outside Public Buildings...
Whilst a combination of Outdoor Litter Bins and Cigarette Bins & Outdoor Ashtrays can be a successful strategy, implementing 2-in-1 containers like our Integro™ Litter Bin can prove to be a valuable ally. Capture both general waste and cigarette butts with 110-litre bin volume and two 3-litre metal ash liners. Its slim and modern design makes it the perfect fit for locations with high footfall such as recreational areas and busy town centres. A compact and streamlined version is available with the Integro City™, utilising a 35-litre bin and a 5-litre ashtray, whilst minimising the use of pavement space on busy streets with its slender depth of only 349mm.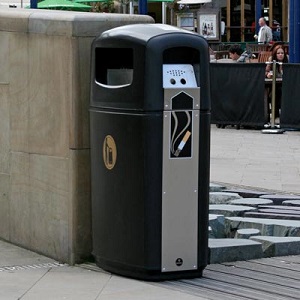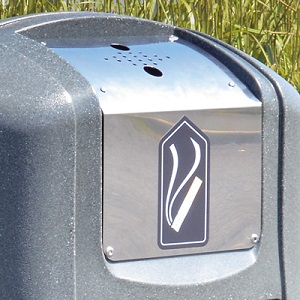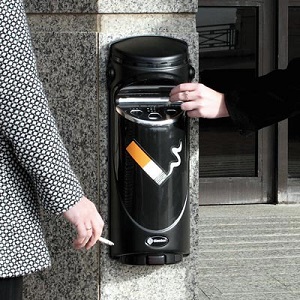 Wall or post-mounted smoking control is a popular choice to suit a range of local amenities, areas where space is restricted like important building entranceways or public transport shelters. The Ashmount SG Wall Mounted Cigarette Bin is the cost-effective and easy-to-install polymer based bin that can be wall or post mounted, storing up to 1,050 cigarette butts. Featuring an accessible 180-degree opening door for disposal and unique Glasdon SmokeGuard smoke dampening device to restrict airflow, starving the smouldering remains of oxygen and therefore preventing possible fires.



Designed for Businesses
For businesses, keeping premises clean from pesky and unsightly butts is evidently vital for attracting customers. Set a high standard for cigarette control within your area of business by installing contemporary, easy accessible and stylish solutions like our Ashguard™ Free Standing Cigarette Bin, or stainless steel variant. This 4-litre metal lined floor standing unit offers an integral stubbing area and aperture grille for tidy disposal, whilst its highly durable and weather resistant Armotec™ coated steel body ensures it will last against busy public use. An alternative unit with the SmokeGuard dampening device is also available as the Ashguard SG. Both units are accessible from both sides, hold up to 3,500 cigarette butts and are the perfect accompaniment to designated smoking zones.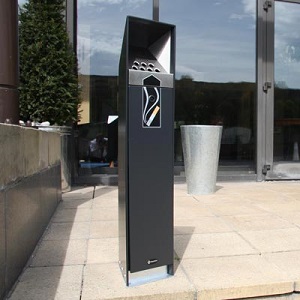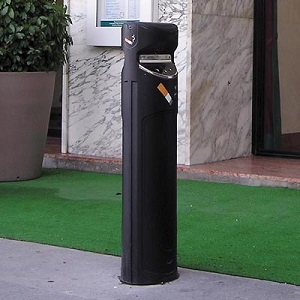 In areas where a large number of smokers are expected to gather, be it social or work, consider the incorporation of Outdoor Smoking Shelter & Canopies to assist in the creation of clean and safer smoking zones. Whilst our range of shelters and canopies allow protection from the outdoors during smoking, they can also act as a valued point of gathering for greater cigarette collection rates. The Eclipse™ Back-to-Back Smokers' Canopy can integrate a centralised floor-standing cigarette bin for multiple people to access, whilst the Modus™ Smoking Shelter can see a post-mounted solution attached to the unit itself.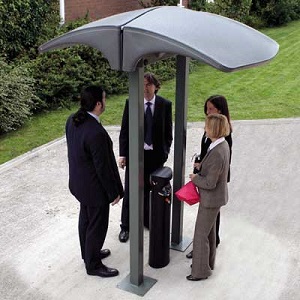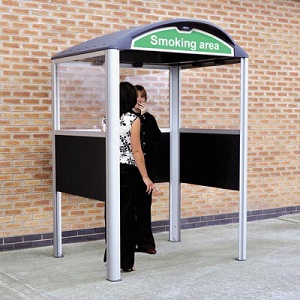 Designed for Education
Whilst these highly effective smoking control solutions can greatly benefit local authorities and businesses in capturing Ireland's 'biggest litter scourge' at the source, the need for comprehensive education on correct disposal methods is just as important. Increasing public awareness of the benefits of using a smoking bin is just as important as installing one.
We've mentioned the use of instructive display posters on our street litter bins to display informative wording or graphics, but our dedicated smoking bins & ashtrays can too be converted to convey vital information on the dangers smoking poses to both the environment and human health.
Utilise the large front opening door of the Integro™ Litter Bin to display a clear and concise message on the risks or, decorate the Ashmount SG's body to make it visually engaging, bright and recognisable. We also offer a free visualisation service where our in-house graphics team are on hand to prepare a visual of your desired product with chosen personalisation.
For more assistance in making your cigarette bin purchase, please read our useful guide on How to Choose a Cigarette Bin.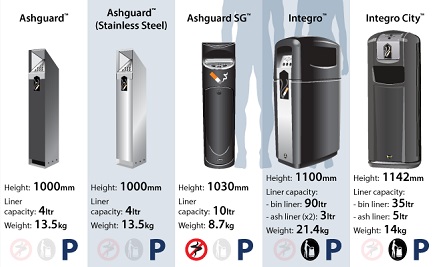 The steps Ireland is taking to reduce cigarette waste could also reverberate. According to this publication from WHO, they estimate that tobacco waste is around 25-40% of all global litter around the world. The need for effective cigarette pollution policies is greatly required to tackle this ever growing waste stream and mitigate the environmental damage it causes. Spain has already followed suit, incorporating their own EPR guidelines that target tobacco and cigarette waste alongside regulation for single-use plastic cutlery, cotton buds and plastic straws.
If you require any additional support or advice on this matter or require assistance in implementing a successful cigarette disposal system within your local services or business, please Contact Us.
References
https://www.litter.ie/system_survey_results/index.shtml
https://www.paho.org/en/news/31-5-2022-who-raises-alarm-tobacco-industry-environmental-impact
http://www.keepbritaintidy.org/sites/default/files/resources/KBT_How_Clean_Is_England_LEQSE_Report_2015.pdf