The Novotel hotel on Times Square in midtown Manhattan, overlooks one of the world's busiest pedestrian intersections, it is estimated that 300,000 people pass through time square on daily basis. Novotel hotel as a global brand, operates all over the world providing luxury hospitality. Glasdon were very pleased when Novotel hotel chose to purchase our Nexus® 30 Recycling Bin.

Why choose the Nexus® 30 Recycling Bins?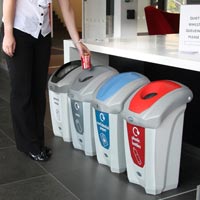 Our Nexus® 30 indoor recycling bins have the ability to be personalised to meet your company and visitor needs. With that in mind you can change the unit specification and apertures to fit almost any recycling situation from batteries, aluminium, paper and plastic.
Not only will they make recycling easier, they are perfect in areas with limited floor space and can even be mounted on a wall.
All of our products go through vigorous testing to ensure their quality matches the way they are designed. The Nexus® 30 Recycling bins are made from Duratec™ which is highly durable and designed to last, with relatively no maintenance needed.
If you require further information regarding the Nexus® 30 Recycling Bins or any other indoor recycling products, please contact us now by: calling 1800 656 606, using our live chat section or email us on enquires@glasdon.ie