Repak offer some top tips to help improve day to day recycling in Ireland, which could present a good opportunity for schools.
These helpful guidelines are the corner stone of Repak recycling initiative, with the aim to get the people of Ireland to 'recycle better'. Repak believe we can eliminate the difficulties of everyday recycling, and by sharing the knowledge recycling rates in Ireland should dramatically improve.
Repak offer resource's specifically for your school environment, from PDF downloads to fact sheets, quizzes and videos.
"Up to 40% of what is currently placed in recycling bins is contaminated and with new EU recycling targets, which are expected to be higher, Repak has taken this proactive step to address the issue and hopes the programme will change student attitudes and behaviours, transforming participating pupils into enthusiastic recycling ambassadors, influencing their family and friends in turn." Quote taken from: https://www.repak.ie/
Practical Solutions to Improve the Quality and Quantity of Recycled Materials
from Your School Right Now
If awareness and action at home is set to increase, there is a real opportunity for schools to introduce programmes that are really fit for the future of recycling, reflecting the changes in attitudes and behaviour and influencing the critical formation of new recycling habits right across the school community.
Reduce contamination and improve quality with multi-stream stations
With the knowledge of the types of waste your school produces, you can easily create effective indoor and outdoor multi-stream recycling stations to capture and segregate the recycled materials from one another.
Are you looking for ideas to make recycling fun and informative? Take a look at Repak's helpful animation videos for some handy recycling tips and hacks.
Food waste, paper and card and dense plastic make up the majority of waste in Secondary Schools.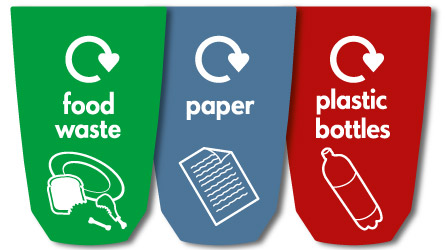 Therefore, it is likely that these streams will feature prominently throughout your multi-stream stations.
Segregating food waste around the school may also require a complement of different containers designed with trays for canteens, lift and close lids for corridors, classrooms and communal areas and lidded pedal bins for kitchens.
Confidential paper waste may also require consideration and communal locations for confidential documents can be created simply with specially designed lockable containers.

Additional waste categories to consider during the audit are garden waste, plastic film, metals, glass and textiles.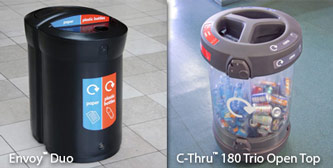 When Space is at a Premium...
Look for trio multi-stream recycling solutions. With a single space saving unit you can capture two or three different waste streams into segregated liners or sacks.
Increase quantity through...
Awareness
Even the most established recycling programmes require continued communication through internal campaign drives and reminders. Why not get the children involved and create a campaign to be proud of with key messages they can relate to.
Positioning and Capacity
The initial waste audit will provide an understanding of the best indoor and outdoor locations for your recycling stations to ensure high visibility in the areas that will naturally generate higher rates of recycling.
Capacity of the containers will also be a key consideration in relation to the volume of waste generated and the frequency of collections.
Signage or a map highlighting the locations of existing and new recycling stations should also support in any awareness campaign.
Smart and Attractive Stations
In such a busy environment, you will need your recycling station to make a statement and attract attention, while also stimulating action.
For a recycling programme to have real impact and become a sustainable asset, consideration should be given to the quality and aesthetic appeal of the containers.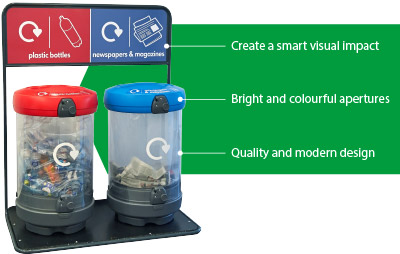 Bright and colourful apertures encourage usage and promote segregation with specially shaped openings for the individual waste streams, carrying the Recycle Now symbols to ensure consistency.
Different apertures are available for 12 waste streams including paper, plastic bottles, food, aluminium cans.
Smart quality containers of modern and interesting design will further demonstrate school's commitment and help embed recycling behaviours into the everyday.
Attract attention to your recycling station with signage or a stand which creates further visual impact and provides a smart fixed feature appearance.
We hope this feature from our Smart School Series has provided you with some useful resources and ideas to help with your school recycling programmes.
If you would like more information please talk to us today using our Live Chat feature or call us on 1800 656 606.
Alternatively you can browse a selection of indoor and outdoor multi-stream recycling solutions which have been chosen by school facilities managers here: Focus on Secondary Schools.
About Glasdon
Glasdon are a leading manufacturer and supplier of sustainable solutions for the management of waste and recycling, cycling schemes and on site health and safety for schools, colleges and universities.
Wherever possible we design our products using recycled materials or material which can be recycled at the end of its service life.
Find out more about our commitment to the environment here.