Reading railway station first opened in 1840 as the temporary western terminus of the original line of the Great Western Railway. This major transport hub is now the 9th busiest in the UK outside of London. Over 3.8 million passengers change trains at this station every year, making it the 2nd busiest interchange station outside London. Reading railway station is 1 of the 19 stations that are currently being managed by Network Rail.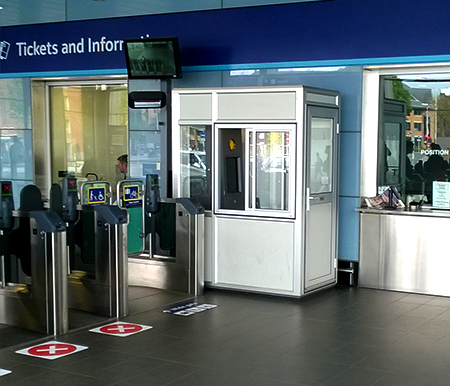 Reading station is now also home to one of our Warrior attendants kiosks. The Warrior is a contemporary modular steel building which provides versatile, cost-effective accommodation for a variety of applications. Some of the design features include:
Either a flat roof for indoor siting or a pitched roof for external applications.
Available in sizes from 1.22m x 1.22m to 7.32m x 2.44m.
Plastic-coated steel exterior panels with a robust aluminium framework.
Delivered fully assembled for off-loading by crane.
It is portable, making it re-locatable at a future date if needed.
Due to Reading station being one of the busiest stations in the UK, we couldn't possibly deliver the attendants kiosk during the day, as this may cause disruption to their many commuters. So instead for convenience, we were happy to install the Warrior Kiosk at night, after the station had closed.

Talk to us about your requirements today via Live Chat at the bottom of this page or alternatively contact us.