Ireland introduces a single-use plastics ban and increases recycling targets.*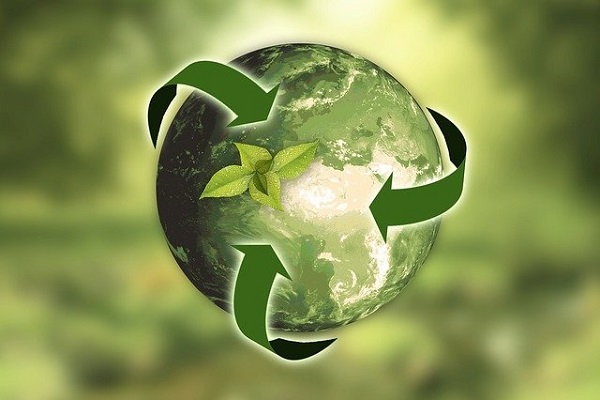 Recycling, at any level, household or commercial, has a positive impact on the planet. Responsible for saving energy, protecting the environment and conserving natural resources, recycling is key to achieving a greener future and a healthier Earth.
As Ireland progresses with its National Waste Prevention Programme (NWPP), we explore what's new in recycling, common waste types collected by our customers, and how they are implementing clever ideas, through personalisation, to create successful recycling programmes.*
What's New?
The recycling landscape in Ireland is ever-changing as society becomes more environmentally conscious, and new processes and facilities allow for a wider variety of recyclable materials.
Soft Plastics
Soft plastics are a variation of plastic that, until recently, have been hard to recycle. Plastic films, yoghurt lids, crisp packets and fruit packaging all classify as soft plastics, but a rule of thumb for defining the material is whether it scrunches. Following this guidance, yoghurt pots, plastic tubs and caps are not soft plastics.

With commercial collections available through multiple waste management contractors, soft plastics, crisp packets, and sweet wrappers are an increasingly popular waste stream for businesses to collect and recycle, enhancing their company's sustainability credentials.

For consumers, soft plastics are now available for disposal at Tesco. The first Irish retailer to offer the service, Tesco aims to create a closed-loop, ensuring that soft plastics are recycled rather than sent to landfills. Part of a larger plan, the scheme sits alongside their ambition to reduce the use of non-recyclable plastics and to make Tesco branded products fully recyclable by 2025.*
As of the seventh of September, household recycling is capable of recycling soft plastics. Following a change to the household recycling list, Irish people can now recycle any plastic that can scrunch.*
Batteries
A similar scheme for collecting and recycling batteries is also in effect in Tesco, SuperValu, Dunnes Stores, Aldi and Lidl. A typically under-recycled material with only four in every ten returned for recycling, the batteries recycling count for the five supermarkets stands at almost six million.

With commercial collections available through multiple companies, such as KMK Metals Recycling, batteries are an increasingly popular waste stream for businesses.
Several recycling contractors are adding battery collection to their services, alongside waste electrical and electric equipment (WEEE).
Plastic
Suntory Beverage and Food Ireland (SBFI) announces a multi-million euro investment to create Lucozade Sport bottles from recycled plastic. Saving 3500 tonnes of new plastic and 9000 tonnes of CO2, the plan prompts the company's move toward net-zero, joining their previous sustainable changes, including a newly designed Ribena bottle and paper straws on Ribena cartons.*
Paper and Cardboard Remain a Top Item for Commercial Collection
Totalling sixty-one per cent of the total household recycling waste and fifty-one per cent of commercial, paper and cardboard are popular waste streams in Ireland.*
Frequently and easily collected by waste management companies, recycling paper and cardboard is environmentally beneficial and lessens the need to chop down trees.
Common Waste Types and Clever Ideas for Recycling Programme Success
Recycling can be single or multi-stream, depending on the recycling infrastructure available in the area and the company's recycling needs. Adapting and personalising products to meet their individual recycling needs, many of our customers create innovative and clever solutions for recycling streams.
WEEE and Batteries
As the digital age continues to expand, WEEE is rapidly becoming a fast-growing waste stream, witnessing a nine per cent increase since the start of lockdown.* Alongside batteries, WEEE can potentially cause harm if incorrectly disposed of as it harbours toxic materials and corrodes, causing fires in the recycling plants. To solve this issue and provide a more sustainable alternative to WEEE and batteries, many of our customers have chosen to house individual electronic and battery waste streams for their employees and customers.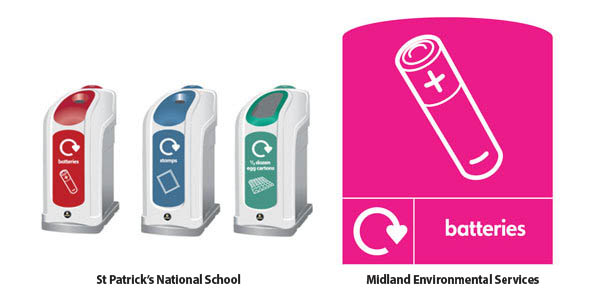 Featuring one Nexus® 100 Duo Recycling Bin and one Nexus 50 Recycling Bin, the recycling receptacles allow Midland Environmental to collect batteries, compostables and dry mixed recyclables conveniently and efficiently.
Founded in 1994, the company utilised the customisable quality of the Nexus range to create an eye-catching waste system with clear signage for individual streams to minimise sorting errors.
St Patricks National School installed a similar feature to their Nexus 50 recycling bins, adding a battery waste stream alongside a stream for stamps and egg cartons.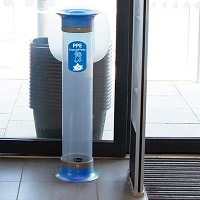 Other customers, with a lesser requirement for e-waste and battery recycling or less space available to house containers, often opt for an alternative solution and tend to find their answer in the C-Thru™ 10L Battery Recycling Bin.
Since the pandemic, an innovative adaption of these bins is to function as PPE waste containers - C-Thru 15L PPE Waste Bin.
Coffee Cups and Cup Residue
Ploughing through 20,000 disposable coffee cups hourly in 2018, coffee cup recycling and cup residue collection is a frequently sought waste stream.*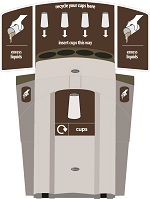 When purchasing the Eco Nexus Cup Recycling Station, Petrogas personalised the product to collect cups, cups residue, general waste, and lids. The pods minimise the cross-contamination of recyclables by providing a facility to empty the liquid prior to disposal.
As contaminated recycling can be hard to process, the side pods reduce waste disposal costs and prevent waste from needlessly ending up in a landfill.
Midland Environmental added a similar feature to their Nexus 100 Recycling Station, attaching a side pod for cup residue to their cup recycling station.
Unique Waste Requirements Need Unique Solutions
Waste stream needs differ across all businesses, and some require a unique solution to waste management. Lowering waste collection costs, opting for individual waste streams is a cost-effective option if there is a large production of a particular item.

Nespresso Coffee Pods
With collection available through Nespresso, coffee pod recycling is a unique but growing waste stream.
Personalising a Nexus 100 Recycling Station by adding a lidded side pod for Nespresso pods, Midland Environmental added clear signage to highlight the function of the compartments.
Soft Plastics: Crisp Packets
As 70% of residents eat crisps at least once a week, crisp packet recycling is a growing trend and, defined as a soft plastic, is available for collection through most commercial contractors.*
Why is Personalisation Important?
Personalisation and clear graphics play a crucial role in the success of recycling diversion rates. Frequently adopted by customers, personalisation can highlight the function of each stream or reinforce public messaging.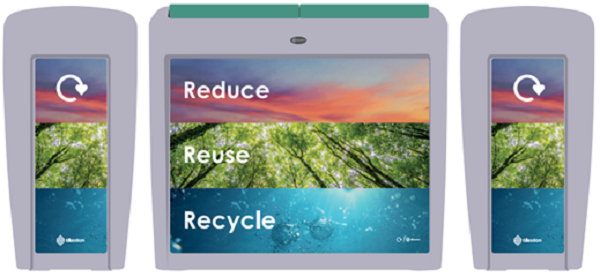 By creating a custom graphic, message or text, the personalisation provides consistent standards, emphasises non-standard materials and increases visibility.
The Future
As Ireland implement new legislation focusing on waste segregation to achieve a circular economy, recycling will play a massive role in the fight for a greener, more sustainable future, continuing to provide alternative and environmentally viable solutions to natural resource consumption.*
Resources
Tips and Guidance -
Collections -
References
*https://www.mywaste.ie/wp-content/uploads/2021/04/MyWaste_Broch_2021_WR.pdf
*https://www.epa.ie/our-services/monitoring--assessment/circular-economy/
*https://tescoireland.ie/news/2021/tesco-becomes-first-irish-retailer-to-recycle-soft-plastics-for-customers/
*https://www.thesun.ie/news/7557619/new-household-recycling-rules-plastics-green-bin-explainer/
*https://www.mywaste.ie/news/six-million-batteries-recycled-through-five-supermarkets-in-2020/
*https://www.irishexaminer.com/farming/arid-40308035.html
*https://www.epa.ie/publications/monitoring--assessment/waste/national-waste-statistics/Waste_Characterisation-Top-Sheet_logo_v2.pdf
*https://www.mywaste.ie/news/erp-highlights-increase-in-electronic-recycling-through-pandemic/
*https://www.gov.ie/en/press-release/65f5e-new-legislation-to-implement-a-circular-economy/
*https://www.shelflife.ie/crisp-and-clear/
*https://www.mywaste.ie/news/22-000-coffee-cups-disposed-of-in-ireland-every-hour/