Glasdon UK's high-quality Buildings and Housing range has expanded with the launch of its latest cost-effective, GRP modular housing: Element.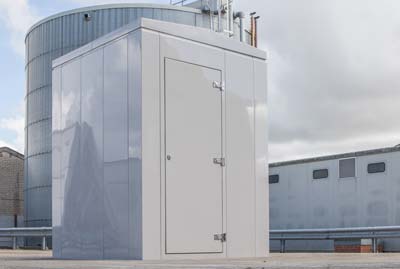 Designed for housing a wide variety of applications, Element™ GRP Housing incorporates modular panels to aid with flexibility and growth. Customers are able to choose from 10 standard sizes in accordance with their business storage needs.
Further customisation of the Element building is available with a choice of optional fittings. A vent or gland plate can extend Element's usage opportunities, and a wide range of locking systems can provide extra security and peace of mind for housing sensitive equipment.
Suzanne Warren, Customer Support Manager of the Buildings and Housings Division said:
"Our customers trust our high-quality design and manufacturing process, and wanted to be able to choose a cost-effective, resilient housing solution that would last.
"A wide choice of sizes, fixtures and fittings mean Element™ can be easily customised, making it an ideal housing solution."
Element's corrosion, vandal and weather resistant GRP panels feature a semi-gloss, light grey outer laminate, which is suitable for all conditions and easy to maintain throughout its long service life with an inner laminate layer providing flame retardancy.
Delivered fully assembled and ready for anchoring into position with self-tapping masonry bolts, Element's capabilities can quickly and easily be put to use.
Typical applications include: electrical and switchgear enclosure, communications network housing, valve and transformer housing, chlorination plant housing, monitoring and control room, generator housing or power supply room.
Customers can benefit from Glasdon technical experts on hand at every stage of the process to design and discuss positioning of preferred fittings and fixtures after purchase.
With over 50 years of Buildings and Housing experience, Glasdon is renowned for quality, design and cost-effectiveness.
View the full range of standard size Element GRP Housings or talk to a member of the Glasdon team today for more information on 1800 656 606.