If you're looking for an economical solution to station your security, ticketing or logistics personnel - Genesis GRP Kiosks can fit the brief and your budget.
Quality and Convenience
Glasdon have been designing and manufacturing with glass reinforced plastic (GRP) since the 1960s. Launched in 2015, the Genesis range of kiosks were designed to combine the quality of Glasdon GRP with convenience and affordability.
Robust, practical (delivered fully assembled) and multi-functional,
Genesis GRP Kiosks are available in four standard models with a wide choice of options to meet your specification.
1.5 x 1.5m
2.3 x 1.5m
2.3 x 1.5m with Double Sliding Windows
2.7 x 2.2m
In addition, the smooth external panels of the Genesis offer you the opportunity to create an eye-catching focal point with the option to apply graphics or wrap-arounds to the whole building!
Which Applications can the Genesis be used for?
Weather resistant and well insulated, Genesis are suitable for a large variety of outdoor applications...
Popular applications include:
Ticket sales and vending kiosks, toll booths, car parking assistant cabins and access control points, security control and gatehouses, visitor and delivery check-in and as an attractive and focal information point for heritage and leisure sites.
Standard Design Features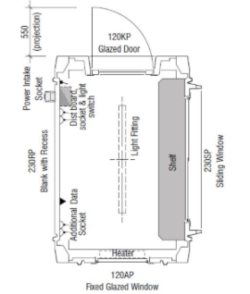 Excellent internal and external finish – aesthetics and low maintenance.
Fully flame retardant panels.
Textured grip surface flooring.
Galvanised frame and ground fixing plates.
Fork lift points built into the frame for ease of portability.
Extremely flexible range of external graphic options.
Delivered pre-assembled ready for off-loading and base fixing.
Technical Information Check

Frame
Galvanised steel subframe for ease of offloading and relocation.

Panel Composition
External and internal pigmented gelcoat backed with flame-retardant GRP laminate either side of a core of particle board and flame-retardant foam insulation as relevant to each panel.

Roof
Insulated as standard and manufactured in one piece.

Floor
Textured Tulsa mesh grip surface on 18mm Phenolic faced plywood board.

Glazing
Toughened safety glass.

Doors
Right hand hung aluminium door with Europrofile cylinder mortice lock.

Colour
Standard White RAL 9016 only.
Adding Optional Extras
Optional extras can provide additional facilities and comfort:
Standard Electrical Kit: Consists of light fitting, light switch and double 13 amp switched plug point, all wired to consumer unit c/w RCD ready to receive mains supply.
Data Socket: Unwired ready for local connection to telecoms network.
External Power Intake Socket: Standard 32-amp external power intake socket installed through the wall panel, more suitable for portable applications where cables are not permanent.
Heater: 0.75kw manual panel convector heater for wall mounting, wired integrally to a fused switch.
Worktops: 30mm grey laminate-faced chipboard, 300mm wide, with varied lengths as per kiosk requirements. A shelf is generally located under the sliding window, but other options may be available.
Plinth Trim Kit: Optional plinth trim kit is available to cover the subframe. To be applied by the customer and is removable to enable the unit to be relocated.
Specifying Your Kiosk
Of course our team are always on hand to help you with your specification – so please don't hesitate to contact us directly.
Personalise your Kiosk with Eye-catching Graphics
Genesis kiosks are also ideal for retail purposes, offering a low-cost solution to enhancing your brands visibility with the option to add graphics to the external wall panels.
The diagrams below show the areas you can personalise with your own logos, photographs or artwork.

Watch the video below to see a time lapse of the construction of the building, a look at the internal view and loading of the Genesis Kiosk.
Genesis GRP Kiosk Models
Genesis GRP 1.5 x 1.5m Kiosk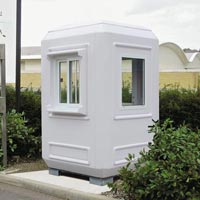 Model K1515

Weight: 290 kg

Base Requirements: 1400 x 1400 x 125mm

Ideal as a toll booth, car parking assist cabin or check in-point
Find out more
Genesis GRP 2.3 x 1.5m Kiosk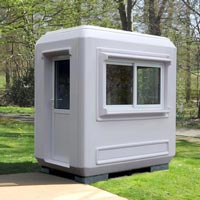 Model K1523

Weight: 400 kg

Base Requirements: 2200 x 1400 x 125mm

Ideal as a ticket booth, vending kiosk or security cabin
Find out more
Genesis GRP 2.7 x 2.2m Kiosk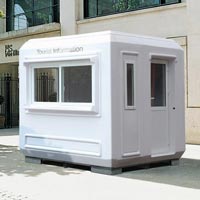 Model K2227

Weight: 600 kg

Base Requirements: 2600 x 2100 x 125mm

Ideal as a ticket booth, vending kiosk or information point
Find out more
Genesis GRP 2.3 x 1.5m Double Sliding Window Kiosk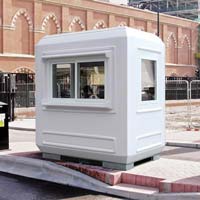 Model K1523A

Weight: 400 kg

Base Requirements: 2200 x 1400 x 125mm

Ideal as a security cabin or gatehouse
Find out more

Still unsure which model is best for you?
Browse our full Genesis GRP Kiosk Range here.
If you are interested in more information on the Genesis range, please contact us here, alternatively you can speak to one of our friendly advisors via LiveChat at the bottom of this page.
Originally Posted: 06.12.19